When a German utilities contract expired, one man thought his neighbours could take over. Wolfhagen not only reclaimed its grid, it cut energy prices and inspired hundreds of other cities, writes Guardian columnist Aditya Chakrabortty
Martin Rhl never imagined this fight would define the rest of his life. Not for a moment did he reckon it would become so epic in length, in scale, in consequences. He just thought his speck of a town should run its own electricity supply.
A modest proposal, but in the Germany of 2003 it was highly unusual. Gerhard Schrder was still chancellor and, although a social democrat, was pushing through more privatisations of public assets than any other leader in German history. This was in a Europe that had learned from Margaret Thatcher and Ronald Reagan to stop worrying and start loving the private sector. Now here, swimming against historys current, was one orderly, slightly anxious engineer.
On Rhls side were evidence, arguments and expertise. What he lacked was his multinational opponents money and firepower. The mismatch produced a battle that lasted years, that set off ripples around Germany and whose lessons should be pondered by anyone who wonders whether Britain could improve how it runs its electricity and gas, its water, its train services. And it kicked off in Wolfhagen, a somnolent town whose biggest previous claim to fame was that one of the Brothers Grimm had stayed in one of its half-timbered buildings.
Fifteen years ago, Wolfhagen was like thousands of other German towns and cities in leasing its electrical grid for its 14,000 residents to one of the worlds largest energy companies, E.ON. But two things made this place different. First, it still had a Stadtwerke, or municipally owned electricity supplier. Second, it had Rhl, whod only recently become the Stadtwerkes boss.
Rhl spotted that E.ONs 20-year licence was approaching its expiry. Rather than just sign again on the dotted line, he thought Wolfhagen ought to reclaim the grid for itself and pressed the case repeatedly upon the local council for months. For all the legal and financial advice hed garnered, Rhl was not at all sure hed persuade the politicians. Lots of people were saying something totally different. Yet, I knew it was legal and correct, and morally right.
Perhaps it was his passion that enthused councillors, but everyone said, Well if its good for Wolfhagen, its good for us. Lets do it.
Now this small-town hick had to tell one of the giants of the energy world that the council no longer needed their services. How did E.ON take it? Well He remembers a scrap of English understatement: They were not amused.
The Germans have a name for what Rhl was about to do: Rekommunalisierung. One of those satisfyingly ungainly bits of Deutsch, it denotes a town or city reclaiming ownership of its public utilities. The term was partly spread by Wolfhagens epic fight for control over its power supply.
The British have their own word: lunacy. No matter how bad our privatised utilities get, any politician who suggests taking them back into public ownership may as well count the hairs on their palms.
Rail franchises can collapse in a single afternoon. Energy giants (including E.ON) face accusations of overcharging the public. Water companies can deny the taxman his dues and the public their investment, while shovelling billions into the pockets of shareholders.
For decades, Britons have paid through the nose for someone else often based thousands of miles offshore to rip them off. Now a clear majority of voters, even true-blue Tories, want public ownership of basic utilities.
Yet to call for that very thing, as Labours Jeremy Corbyn does today, is to face the molten wrath of the rightwing press, the trade lobbyists and the Conservative party. To resist the ideological extreme that the private sector must always run our public services is to be denounced as an extremist ideologue.
Rhl faced his own denunciations from E.ON. They said we couldnt do it. That the lights would go out. They said we were uneconomical either the town would have to subsidise energy or residents would have to pay more. All bullshit, he says. Yet the fight brought sleepless nights and days besieged by worry that he wasnt up to the job.
He realised he was attacking E.ONs business model. For them it was like, If [Wolfhagen] want their grid back then maybe everyone does. I was part of the breaking of the dam. So they had to give it their all. And the amount they wanted to be compensated for the grid was far higher than the towns starting bid.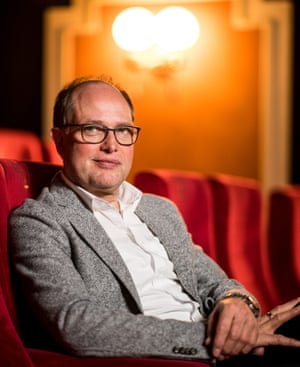 Read more: https://www.theguardian.com/commentisfree/2018/feb/28/small-town-wolfhagen-community-revolution-german-europe-energy-contract